Company Updates
News
2014/10/20
CASL Extends Line Maintenance Services to Dragonair
China Aircraft Services Limited (CASL) has signed a contract with Hong Kong Dragon Airlines Limited (Dragonair), for line maintenance services in Hong Kong. Dragonair is a wholly-owned subsidiary of Cathay Pacific Airways Limited.
CASL has been providing Dragonair's Airbus A320/A321 and A330 fleet with cabin cleaning and riding engineer services. The expansion of services includes comprehensive line maintenance services, aircraft spare parts storage and logistic, aircraft material supply and ground support equipment to its Airbus A320 and A321 fleet for approximately 50 transit and overnight flights each day. The services will commence on 1st December 2014.
Dr. Angus Cheung, Chief Executive Officer of CASL and Mr. Algernon Yau, Chief Executive Officer of Dragonair both expressed their appreciation for extending the new scope of business and working closer with each other.
Talking at the signing ceremony for the new contract, Dragonair Chief Executive Algernon Yau said: "At Dragonair we are strongly committed to offering high standards of safety and efficiency across every aspect of our operations. We are pleased to extend the contract with CASL for the provision of line maintenance services for our A320 and A321 fleets. We believe the efficient and effective service provided by CASL will help us in our quest to deliver the best-possible services to our customers and to enable us to meet our vision of being the World's best regional airline."
"Through the vital collaboration, CASL provides Dragonair's Airbus A320/A321 fleet with a more comprehensive and highly efficient line maintenance services model as well as long term cost protection. CASL has been serving more than forty airlines locally and internationally with line maintenance services, aircraft heavy maintenance services, cabin services, ground support equipment services, storage and equipment logistics service since the operation in 1998. We will strive to further enhance the competitiveness of Hong Kong's aircraft maintenance industry in serving airline customers with our best maintenance services." Dr. Cheung emphasized. "The new contract will strengthen a long-standing partnership with Dragonair."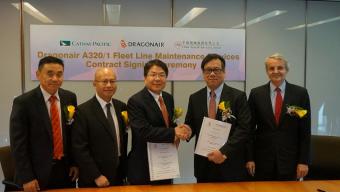 Representatives from Dragonair, Cathay Pacific and CASL
Back