Company Updates
News
2021/04/23
CASL company visits resume with pandemic under control!
Thanks to the virus being under control locally, our hangar visit is back since over a year ago!
CASL work hard in contributing and giving back to society in various ways. Through welcoming students to visit the aircraft maintenance hangar, we hope to ignite youngsters' passion in aviation, help them more thoroughly understand the aircraft maintenance industry and inspire them to better plan and explore possibilities in their careers.
As a Project WeCan partner, CASL hosted the first in-person hangar visit last Friday since the pandemic and welcomed Fung Kai No. 1 Secondary School. Teachers and students who joined the visit described the event rewarding, giving them a comprehensive and in-depth understanding of aircraft maintenance, particularly base maintenance.
All visitors at the event observed strict anti-pandemic measures, including infrared temperature screening, filling in of health declaration forms, hand disinfection prior to entry, mask-wearing and no eating throughout the visit, significantly reducing the number of visitors, as well as social distancing during the visit and etc. to minimize the risks of spreading viruses. We hope the pandemic will be over soon and more adolescents can visit at ease in a worry-free environment!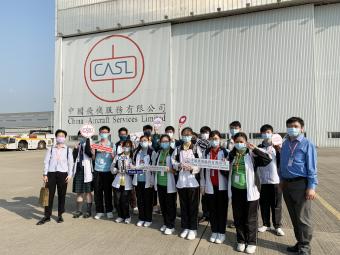 Back